Welcome!
Our fansite celebrates the life and achievements of Johnny Depp. Here you can track up-to-the-minute news on Johnny's current projects, browse Sleepy's breathtaking photo galleries, trade opinions with witty, friendly Depp fans from around the world on our forums, discuss his favorite books with our book club, or read vintage interviews--or JD's own writing--in the JDZ Archives. Look into the JohnnyDepp-Zone...we predict you'll never want to leave.

Donate for Hurricane Ike Relief



PUBLIC ENEMIES premieres in Los Angeles on June 23rd!
Breaking news about the much-anticipated world premiere of Michael Mann's Public Enemies, starring Johnny Depp: the premiere will take place in Los Angeles on Tuesday, June 23, 2009, at Mann's Village Theater at 961 Broxton Avenue in Westwood Village, near UCLA. No time has been announced for the screening, but for a Tuesday night premiere, the normal time for celebrity arrivals would be between 5:00-6:30 p.m. Veterans of previous Johnny Depp premieres know that if JD runs true to form, he will be the last to arrive, so pack your patience and your sunblock if you are thinking of going to Westwood Village to watch the red carpet.

The Zone thanks Emma for breaking the news! You can read more about the Public Enemies premiere on the News & Views forum. --Part-Time Poet
April 10, 2009
Watch the new international trailer for PUBLIC ENEMIES!
Great news--Universal has released a new trailer for Michael Mann's Public Enemies! Aimed at the international market, this trailer gives some more detail about who John Dillinger was and why he became a folk hero to Americans sunk in the depths of the Depression; it also shows how Dillinger's popularity made him a target for J. Edgar Hoover's newly-formed FBI. For the romantics among us, this trailer also sheds more light on the relationship between Dillinger and Billie Frechette, played by Marion Cotillard.




The Zone thanks Mrs Pink for sharing the trailer with us! --Part-Time Poet
April 09, 2009
Gore Verbinski will not direct PIRATES OF THE CARIBBEAN 4

Gore Verbinski, director of the enormously successful Pirates of the Caribbean trilogy, has informed Disney and POTC producer Jerry Bruckheimer that he will not direct the fourth installment of the series. Variety's Michael Fleming reports that Verbinski has chosen instead to focus on Universal's Bioshock, an adaptation of a popular video game with a script by John Logan. Verbinski will make Bioshock when he finishes work on his animated feature Rango, which stars Johnny Depp and Isla Fisher.

"I had a fantastic time bringing Pirates to life, and I am eternally grateful to Jerry, Johnny and the rest of the creative and production team," Verbinski said. "I'm looking forward to all of us crossing paths again in the future." According to Variety, it is not clear how Verbinski's decision will affect POTC 4, which is "in development" but has yet to receive a green light from Disney; the sequel lacks a director, an approved script, and (very important in this tough economy) a budget. Sounds like we may be waiting a while before the Black Pearl sets sail again; although we are sorry to see Gore Verbinski leave the franchise, we wish him fair winds and following seas as he sets out on a new adventure.

The Zone thanks Emma for breaking the news; you can read the Variety article HERE. For a lively discussion about POTC 4's future, see the Zone's Porch forum. --Part-Time Poet
April 07, 2009
Terry Gilliam's THE IMAGINARIUM OF DR. PARNASSUS now complete--may screen at Cannes

Director Terry Gilliam has finally completed post-production work on The Imaginarium of Doctor Parnassus, and the much-anticipated film is now ready to screen for possible distributors in the United States. Doctor Parnassus lost its leading man when Heath Ledger died in January 2008, but a trio of A-list actors--Johnny Depp, Jude Law, and Colin Farrell--stepped in to complete Ledger's role. "Everybody in the crew and cast said, 'We have to finish this thing.' It was a team effort," Gilliam told ITN.co.uk. "It's done and it's . . . wonderful, it's beautiful and I'm very happy with it."

Steven Zeitchik of The Hollywood Reporter writes that The Imaginarium of Doctor Parnassus is considered a likely candidate for this year's Cannes Film Festival, although the official announcement of Cannes offerings is still a few weeks away. The Zone thanks Emma and FANtasticJD for the updates. --Part-Time Poet
April 03, 2009
"Puerto Rico has been kind to me," Johnny Depp tells reporter in San Juan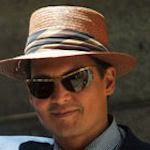 Filming continues in Old San Juan on Bruce Robinson's The Rum Diary, and in what has become a daily ritual, crowds gather on the street, hoping to catch a glimpse of Johnny Depp and other stars as they enter and leave the building which houses the set of the fictitious newspaper, The San Juan Star. Melba Bruguera of El Vocero exchanged a few words with Johnny on Wednesday: she describes a tumultuous scene with hundreds of people constantly shouting and attempting to take the actor's picture with their cell phones. "The Puerto Rican hot sun has not been an impediment to being close to the public," Bruguera writes. She adds that Johnny has been "friendly and accessible," walking out after shooting ends in the evening to greet fans individually. Often he is still in costume as Paul Kemp, wearing 1950s attire: to see a larger photo of Johnny in costume, CLICK HERE.

"I love Puerto Rico," Johnny told the reporter, saying that it is easy to be kind to Puerto Rico because the people of Puerto Rico have been so nice to him. Bruguera tells a heartwarming story of one little girl named Gladys who waited in the crowd dressed up as Captain Jack Sparrow; she did get her chance to meet Johnny, and he autographed her Captain Jack Sparrow action figure.

The Zone thanks Emma for the El Vocero story; you can read much more about the filming of The Rum Diary on the Zone's News & Views forum. --Part-Time Poet
April 02, 2009
We're not fooling--Tim Burton's ALICE IN WONDERLAND will be released in IMAX 3D
Walt Disney Studios Motion Pictures and IMAX Corporation have announced that Tim Burton's forthcoming film Alice in Wonderland, starring Mia Wasikowska as Alice and Johnny Depp as the Mad Hatter, will be released to IMAX theaters on the same day as the film's wide release in North America: March 5, 2010. "If ever there was a film that cried out to be presented in Disney Digital 3D and the premium IMAX 3D format, Tim Burton's fantastic interpretation of Alice in Wonderland is that film. This is going to be an eye-popping cinematic experience," promises Mark Zoradi, president of Walt Disney Studios Motion Pictures Group. "Tim takes moviegoers down the rabbit hole and into the dimensional world filled with incredible characters, sly humor and wild adventures."

Sounds great! The Zone thanks Gilbert's Girl for sharing the news; you can read more on the News & Views forum. --Part-Time Poet
April 01, 2009
Johnny Depp greets fans during filming of THE RUM DIARY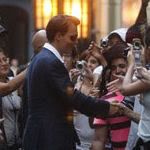 Filming of Bruce Robinson's The Rum Diary continued at the building designated as the offices of the San Juan Star in Old San Juan today; local media reported seeing actors Johnny Depp, Aaron Eckhart, Richard Jenkins and Marshall Bell entering and leaving the set. The fans who congregated, hoping for a chance to say hello to JD, were not disappointed, but they had a long day of waiting: Johnny reported to the set before 8:00 a.m., and it was 6:00 p.m. before he was at liberty to come out and greet the well-wishers. ELNUEVODIA.com reports that Johnny was friendly with the crowd, signing autographs and "handing out kisses." To see a larger photograph of Johnny greeting his supporters, CLICK HERE. The Zone thanks Emma for the story; you can read much more about the filming of The Rum Diary on the Zone's News & Views forum. --Part-Time Poet
March 31, 2009
THE RUM DIARY, starring Johnny Depp, now filming in Old San Juan

Filming on Bruce Robinson's The Rum Diary shifted to the narrow streets of Old San Juan on Monday morning, with the cast and crew congregating at a beautiful yellow five-story building bearing a new neon sign which read "The San Juan Star." That happens to be the name of the (fictional) newspaper where Hunter S. Thompson's protagonist, Paul Kemp, finds a job, but it could just as easily refer to the film's leading man, as crowds began to gather early in the day in hopes of seeing Johnny Depp. They were not disappointed. Filming began at 7:00 a.m., and JD ventured out on his lunch break, around 1:00 p.m., to wave to the crowd. He was accompanied by security chief Jerry Judge. To see a larger photo of JD and Jerry, CLICK HERE.

Renowned Panamanian musician and sometime actor Ruben Blades dropped by the set to visit with JD; the two appeared together in Robert Rodriguez's 2003 film, Once upon a Time in Mexico. Many thanks to Emma for sharing several articles from Puerto Rican newspapers and websites; thanks also to Marijose for help with translations. You can read much more about The Rum Diary on the Zone's News & Views forum. --Part-Time Poet
March 30, 2009
Cast and crew updates for THE RUM DIARY

Giovanni Ribisi will be joining Johnny Depp in Bruce Robinson's film, The Rum Diary, currently shooting in Puerto Rico. Ribisi previously worked with JD in Michael Mann's Public Enemies, due in theaters on July 1st; according to Variety, Ribisi will play "a carousing journalist" (is there any other kind?). Also joining the cast is Amaury Nolasco, familiar to Zone readers from his role in the TV series Prison Break. Nolasco, a native of Puerto Rico, told the press that he is "doubly happy" to be cast since he will be coming home. Thanks to FANtasticJD and Emma for the casting news; you can read more on the Zone's News & Views forum.

Director of Photography for The Rum Diary is the always-brilliant Dariusz Wolski, who shot the entire Pirates of the Caribbean trilogy, as well as Tim Burton's most recent films, Sweeney Todd and Alice in Wonderland. Two-time Oscar winner Colleen Atwood is designing the costumes; she has previously worked on five Johnny Depp films (Public Enemies, Sweeney Todd, Sleepy Hollow, Ed Wood, and Edward Scissorhands). --Part-Time Poet
March 28, 2009
BREAKING NEWS--First photos of Johnny Depp filming THE RUM DIARY!

That's Johnny Depp in costume as Paul Kemp in Bruce Robinson's film of The Rum Diary--credit Oscar-winning designer Colleen Atwood for the beautiful Kennedyesque look. To get catapulted back into the 1960 world of Hunter S. Thompson's novel, simply look at the larger version of this picture available on People's website, which shows JD (as Paul Kemp) riding in co-star Aaron Eckhart's gorgeous red convertible, identified by Zone sleuths as a 1960 Austin-Healy 3000 MkI/BT7. To see the photo, CLICK HERE.

You can read a lively discussion of Johnny Depp's look as Paul Kemp on the Zone's Pit forum. Thanks to FANtasticJD, Chocolat and her husband for identifying the Austin-Healy--that's fine detective work. And congratulations to Johnny Depp, Bruce Robinson, and the cast and crew of The Rum Diary--may good fortune smile on you as you begin your journey. --Part-Time Poet
March 27, 2009
No Moe--Johnny Depp will not appear in the Farrelly brothers' THREE STOOGES

Johnny Depp will not be playing Moe in the upcoming Farrelly brothers film about the Three Stooges--Production Weekly and Variety are both reporting a cast of Sean Penn as Larry and Benicio Del Toro as Moe, with Jim Carrey in talks to play Curly (with Carrey gaining 40 pounds to play the rotund funnyman). The film is not a biography of the legendary slapstick comedians, says Michael Fleming of Variety, but rather "a comedy built around the antics of the three characters that Moe Howard, Larry Fine and Curly Howard played in the Columbia Pictures shorts." Production on The Three Stooges is scheduled to begin in the fall for a 2010 release; this would put it in conflict with Dark Shadows, which is now scheduled to shoot in the fall.

The Zone thanks FANtasticJD for breaking the news; you can read more about The Three Stooges on the Zone's News & Views forum. --Part-Time Poet
March 25, 2009
RUM DIARY update--Johnny Depp arrives in Puerto Rico
According to El Nuevo Dia, Johnny Depp has arrived in Puerto Rico to prepare for the filming of Bruce Robinson's The Rum Diary; he was sighted on the streets of the walled city of Old San Juan, wearing a beret and visiting local shops. For those who pay close attention to the length of JD's hair (and you know who you are), the news from San Juan is that Johnny has already received the requisite late-1950s short haircut that the role of Paul Kemp requires.

In other Rum Diary news, Michael Rispoli has been cast as Bob Sala, joining JD, Aaron Eckhart, Amber Heard, and Richard Jenkins. A talented character actor, Rispoli appeared on The Sopranos and is well-remembered for his featured role in While You Were Sleeping, in which he played the lovelorn son of Sandra Bullock's landlord. The Zone thanks FANtasticJD and Theresa for the news on Mr. Rispoli, and Emma for the other news from San Juan. You can read much more about The Rum Diary on the Zone's News & Views forum.

Shooting on The Rum Diary is scheduled to begin on March 3oth. --Part-Time Poet
March 21, 2009
Happy Anniversary! PUBLIC ENEMIES began shooting one year ago today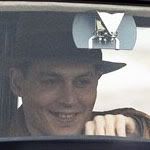 The photo at left shows Johnny Depp as John Dillinger, behind the wheel of a vintage car, motoring down a street in Columbus, Wisconsin exactly one year ago today. This was one of the first photos we saw as cameras rolled on Michael Mann's gangster drama Public Enemies on March 17, 2008--the beginning of a three-and-a-half month shoot that brought JD in almost daily contact with the public. It was a spring we will never forget. Thanks for the memories, Johnny Depp and Michael Mann. Thanks for opening up the filmmaking process and letting us witness it on our streets and in our towns, and for letting us cheer you on as you walked in the footsteps of Dillinger.

Many Zoners were present for part of the Public Enemies filming, and they are sharing their memories on the Zone's Porch forum. --Part-Time Poet
March 17, 2009
Oprah Noodlemantra's Book Club begins tidbits for Daniel Depp's LOSER'S TOWN today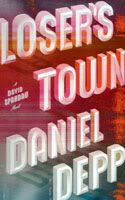 Oprah Noodlemantra's Book Club is preparing to discuss Daniel Depp's debut novel Loser's Town--background tidbits begin today on the ONBC forum! Loser's Town follows in the footsteps of classic Hollywood detective novels, with a world-weary, skeptical private investigator trailing clues through Tinseltown. Depp's hero is David Spandau, a stuntman-turned-detective who "is irreverent with the suits and respectful toward the industry's working stiffs," according to Kirkus Reviews. "Spandau is grounded in reality and possessed of a cool Robert Mitchum might envy, which comes in handy when he takes the case of a somewhat disconnected actor name Bobby Dye, fast on the road to superstardom, who has found himself involved in a blackmail plot underneath which lies something far more sinister." Kirkus adds, "Bikers, hookers, drug dealers, and worst of all, agents and producers figure in at points in the nicely tangled plot . . . ." How can you resist?

ONBC moderators Liz and DeppintheHeartofTexas invite you to stop by the ONBC forum and get to know the fascinating world portrayed in Loser's Town. --Part-Time Poet
March 16, 2009
| | |
| --- | --- |
| | The Johnny Depp Zone's original content is copyright 2001-2009 by Natalie, and Rosemary. HTML and graphic design is copyright 2004 by Maria. This fansite has no official affiliation with Johnny Depp, his family or management. No copyright infringement is intended: images and articles are used without permission and are copyright of their respective owners. FAQ. |